Consider a life-changing summer at Clearwater Forest! Working at Clearwater Forest is more than just a job you can put on your resume… It is an experience that will build character, affect hundreds of young lives, improve life skills, impact career decisions, and provide friends from all over the world that will keep in touch for years to come.
what are the job responsibilities of
Summer staff are responsible for many aspects of insuring a safe, fun, and impactful camp. Our summer staff will:
Lead activities and teach skills
Facilitate small group interaction during Quest, time with cabin mates, and at family-style meals
Create new games and programs to enliven the summer camp experience for kids
Teach responsibility to children and youth through the daily routine of getting ready, eating meals, caring for personal belongings, and going to bed each night
Encourage all ages to try new things and think differently
Support the operation of the camp behind the scenes (program planning, activity and game preparation, scheduling, building fires, completing other work projects around camp, and more)
Enable family bonds to be built by working with Family Camps and Grands Camps
Grow as individuals and gain many lifelong skills that can translate to work beyond camp
Stretch to learn new skills like cooking over an open fire, rolling a sea kayak, or climbing the magnificent rocks along the northern shore of Minnesota
Build lifelong friendships and become a part of the Clearwater community
Help each child, youth, and adult that comes to Clearwater Forest to grow in their spirituality and relationship with God and creation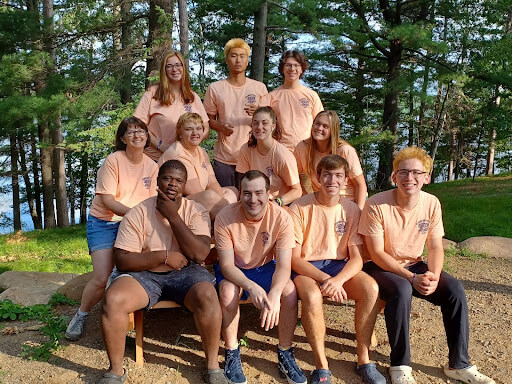 Summer 2023 Staff will start in early June with two weeks of staff training on-site followed by seven weeks of youth and adult camp programming and will have the opportunity to remain on staff for a few specialty programs in mid-August. Summer staff are provided room and board for the duration of their summer employment (with a few exceptions in relation to meals from 1pm Sat - 11am Sunday).
We are seeking counselors, support staff, and specialized roles, particularly looking for those with lifeguard certification, musical abilities (guitar/other instruments), nursing background, individuals looking for leadership roles and increased responsibility, and any other unique skills. 
All summer staff are provided with basic medical, first aid and CPR training.
Our terrific summer staff at Clearwater Forest are one of the big reasons so many campers love to return year after year! Clearwater intentionally seeks a diverse group of summer staff from local churches, area colleges, camp alumni, and international staff from around the world. Through intensive staff training, this group of individuals bonds and grows together to form a warm and welcoming community for everyone who comes to camp.
We look for: enthusiasm; a strong work ethic; people who take initiative; individuals who LOVE children and youth so much that they are led to invest in a summer of ministry; and someone who desires to know God better and grow in their faith.
All applicants are well screened and evaluated before a decision is made to hire them. All applicants must fill out an in-depth application that covers many areas of their personal and spiritual experience and abilities. We require a minimum of three references for every applicant, a background check is conducted on each, and Clearwater only hires individuals who we would trust with our own children!
Staff training is two weeks long and held prior to the first day of camp. It includes focused attention on each individual's area of employment, general policies, procedures and safety standards. We train in program areas, leadership skills, backcountry camping skills and daily life at Clearwater Forest. The strong staff community only enhances the fun and spiritually nurturing time your camper will have while at Clearwater Forest!