Events
The goal of all Clearwater Forest events is to build community. Our hope is that everyone who comes to Clearwater can feel like part of the Clearwater Forest family, even after the event is over. Our events strive to provide shared experiences in a beautiful setting that minimizes distractions. This allows us to focus on what is most important - the people! At Clearwater Forest, we hope to create an environment where deep, lasting relationships can be formed while encouraging personal growth and having a lot of fun! Come join us at one of our events or host your own!
Adventure-a-Thon & LuWow!
Clearwater Forest will be hosting an Adventure-a-Thon & LuWow! on Saturday, July 15th. You won't want to miss this exciting event!
The Adventure-a-Thon will begin at 2 pm and include kayaking, mountain biking, and trail running or walking. Kayaks and bikes can be provided by Clearwater. (Please note this in your registration.) Event registration costs $30 and includes a T-shirt.
The LuWow! will begin at 5 pm with a roasted pig at the top of the menu along with delicious side dishes and desserts. Live music will be provided by the Rusty Crayfish Brass Band. Thanks to sponsorship by TK Pools and the generosity of Clearwater Forest staff and board members, this event will be offered free of charge. We hope that those who attend will be caught up in the inspiring vision and mission of Clearwater Forest and  will give generously.
What to Bring: lawn chair or blanket and beverage of choice (non-alcoholic beverages will be available)
Adventure-a-Thon & LuWow 2023 RSVP!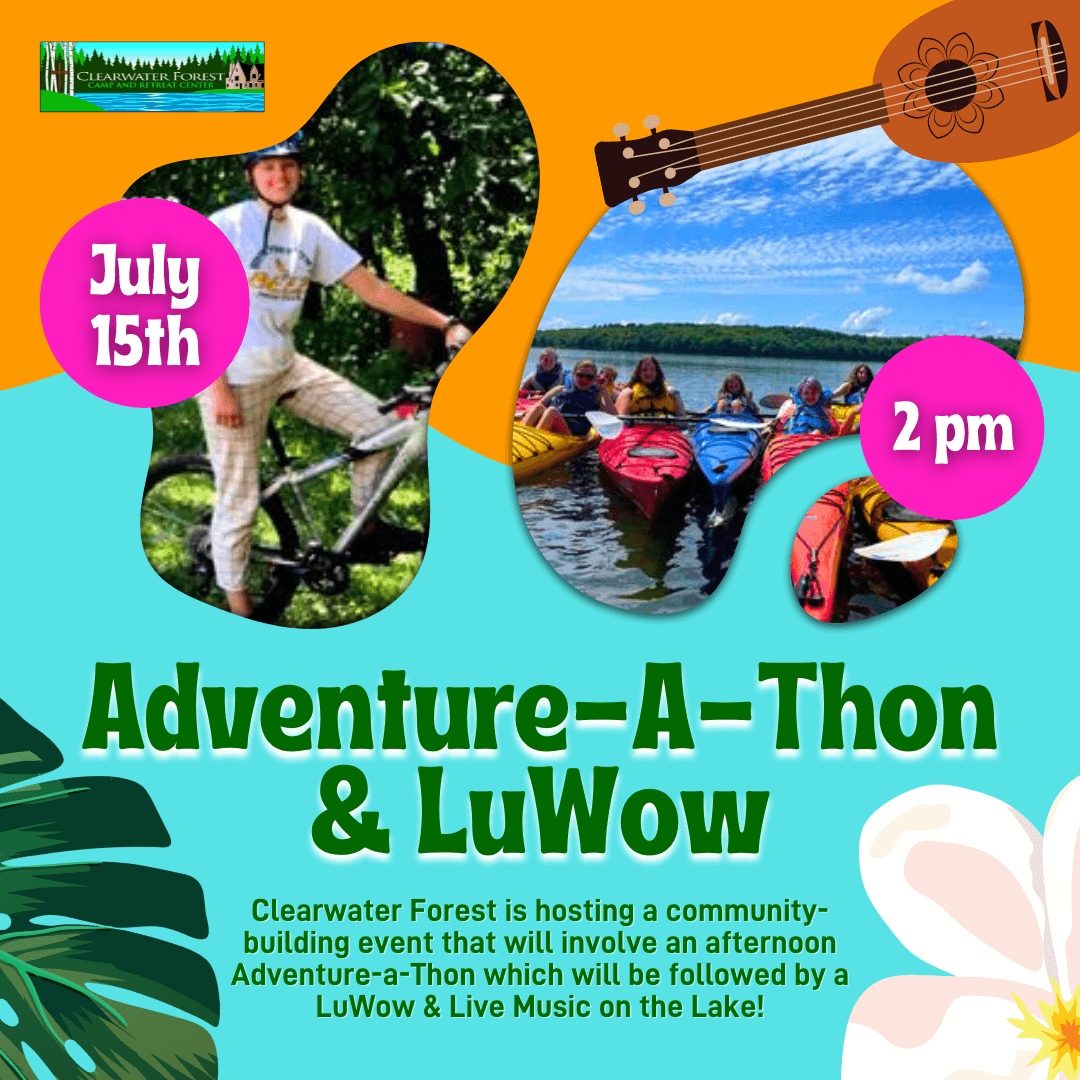 announcements
Lodging for the Adventure-a-Thon & LuWow! 2023
There will be many lodging options for the Adventure-a-Thon & LuWow! Rooms at both Eagle and Leaning Tree Lodges are available at a rate of $50/person for a shared room and $100/person for an individual room. Please contact Emma at 218-678-2325 or office@clearwaterforest.org to reserve your room.
Registration for the Adventure-a-Thon & LuWow 2023 now open! CLICK HERE!
Volunteers Needed!
Please consider volunteering to help with the Adventure-a-Thon and LuWow! event. Many volunteers will be needed to help with parking, direct racers, ensure that food is served efficiently, and ensure that the day runs smoothly. Volunteering is a great way to participate in the event without breaking a sweat! We are also looking for volunteers or organizations to donate Silent Auction items.  Click here to apply to volunteer!

Scenic Bike Tour
The best way to see Minnesota's Lake Country is on a bicycle! Join us as we raise money to benefit Clearwater Forest Camper scholarships. This beautiful, one-day ride starts and ends at Clearwater Forest. It winds along country roads, past farms, and around a few lakes on the way.
Registration is at 7 am on Saturday, July 15th.
Lodging is available at Clearwater Forest by calling 218-678-2325 or emailing office@clearwaterforest.org
2023 registration now open!
registration
To register for events organized by Clearwater Forest you'll need to set up an account in CampBrain, our secure online database, by clicking the 'Register Now' button below. This account is for your whole family and can be used year after year. You will use this account to register for summer camp, retreats, and other events at Clearwater. All forms, permissions, and waivers for any camp or retreat will be completed within your account.
2023 registration now open!